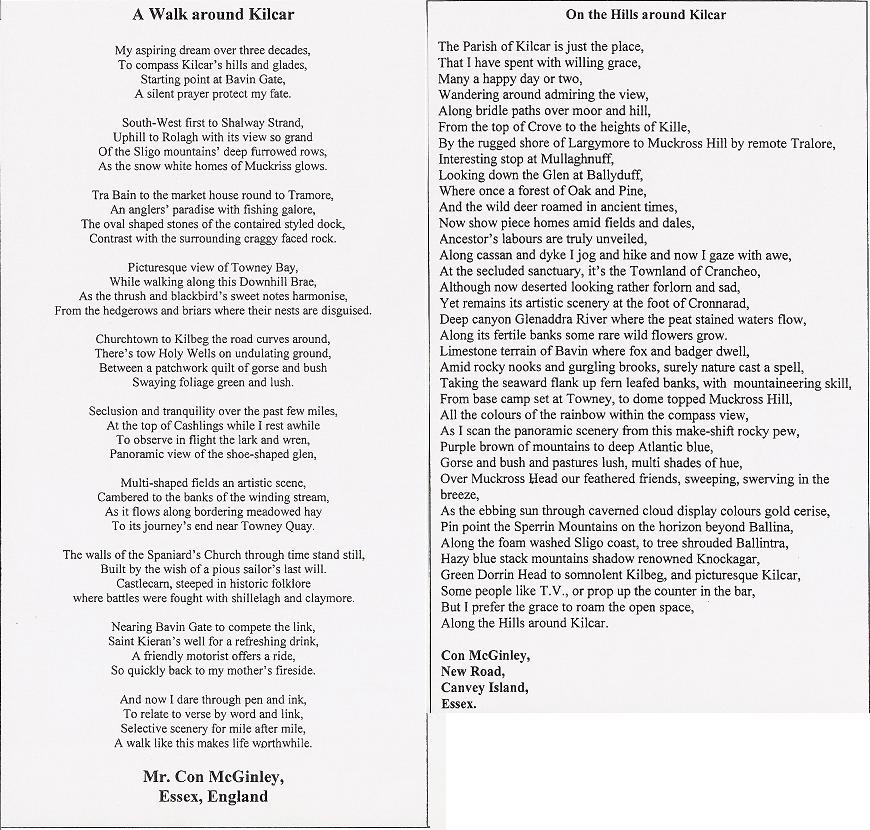 A Ballad of Athlone
Aubrey DeVere
Does any man dream that a Gael can fear?
Of a thousand deeds let him learn but one!
The Shannon swept onward broad and clear,
Between the leaguers and worn Athlone.
"Break down the bridge!"- Six warriors rushed
Through the storm of shot and the storm of shell:
With late but certain victory flushed
The grim Dutch gunners eyed them well.
They wrenched at the plank mid a hail of fire:
They fell in death, their work half done:
The bridge stood fast; and nigh and nigher
The foe swarmed darkly, densely on.
"Oh, who for Erin will strike a stroke?
Who hurl yon planks where the waters roar?"
Six warriors forth from their comrades broke,
And flung them upon that bridge once more.
Again at the rocking planks they dashed;
And four dropped dead: and two remained:
The huge beams groaned, and the arch down-crashed;-
Two stalwart swimmers the margin gained.
St Ruth is his stirrups stood up and cried,
"I have seen no deed like that in France!"
With a toss of his head, Sarsfield replied,
"They had luck, the dogs! "Twas a merry chance!"
O many a year, upon Shannon's side,
They sang upon moor and they sang upon health,
Of the twain that breasted that raging tide,
And the ten that shook bloody hands with Death!
---
 An Gleann inar Togadh Mé
Dubhghlas de hÍde
Ó háit go háit ba bhreá mo shiúl 
'S dob ard mo léim ar bharr an tsléibhe 
San uisce fíor ba mhór mo dhúil 
'S ba bheo mo chroí i lár mo chléibhe 
Mar chos an ghiorria do bhí mo chos, 
Mar iarann gach alt is féith, 
Bhí an sonas romham, thall 's abhus, 
Sa ghleann inar tógadh mé. 

Ba chuma liomsa fear ar bith, 
Ba chuma liom an domhan iomlán, 
Mar rith an fhia do bhí mo rith, 
Mar shruth an tsléibh' ag dul le fán; 
Is ní raibh rud ar bith sa domhan, 
Nach ndéanfainn (dá mba mhaith liom é) 
Do léim mo bhád ar bharr na habhann. 
Sa ghleann inar tógadh mé. 

Gach ní dá bhfacas le mo shúil, 
Bhí sé, dar liom, ar dhath an óir, 
Is annamh a dhearcainn ar mo chúl, 
Ach ag dul ar aghaidh le misneach mór, 
Do leanainnse gan stad gan scíth 
Mo rún, nuair chuirinn romham é; 
Do bhéarfainn, dar liom, ar an ngaoth, 
Sa ghleann inar tógadh mé. 

Ní hamhlaidh tá sé liom anois, 
Do bhí mé luath, 'nois tá mé mall; 
Is é mo léan, an aois do bhris 
Sean-neart mo chroí is lúth mo bhall; 
Do chaill mé mórán 's fuair mé fios, 
Ar mhórán - och ní sású é- 
Mó léan mo léan gan mé arís óg 
Sa ghleann inar tógadh mé.
---
 A Donegal Boy In Dublin
Oh, 'tis weary I am of the streets that are gray,
with no sight of the sun through the length of the day.
It is lonesome I am for the sound of the surf,
it is longing I am or the smell of the turf.
The wee yellow cowslips they cry in the street,
in the fields around home are many and sweet,
And the little brown larks on the wet window-sills they
sing the same song on the Donegal hills.
And the calling of gulls in the wild air above is the
same that they hear in the place that I love.
With a hundred of faces not one that I know-
But the cold of the wind in my face as I go!
---
Bean tSleibe Ag Caoineadh A Mic
Pádraic Anraí Mac Piarais,
Brón ar an mbás, 's é dhubh mo chroíse.
D'fhuadaigh mo ghrá is dfhág mé cloíte, 
Gan caraid gan compánach fá dhíon mo thíse 
Ach an léan seo im' lár, is mé ag caoineadh'

Ag gabháil an tsléibhe dom tráthnóna
Do labhair an éanlaith liom go brónach, 
Do labhair an naosc binn 's an crotach glórach,
Ag faisnéis dom gur éag mo stórach

Do ghlaoigh mé ort is do ghlór ní chualas,
Do ghlaoigh mé arís is freagra ní bhfuaras,
Do phóg mé do bhéal, is a Dhia, nárbh fhuar é!
Och, is fuar í do leaba sa gcillín uaigneach.

'S a uaigh fhódghlas 'na bhfuil mo leanbh.
A uaigh chaol bheag, ós tú a leaba,
Mo bheannacht ort, is na mílte beannacht
Ar na fódaibh glasa atá os cionn mo pheata.

Brón ar an mbás, ní féidir a shéanadh,
Leagann sé úr is críon le chéile –
S a mhaicín mhánla, is é mo chéasadh 
Do cholainn chaomh bheith ag déanamh créafóig'!
---
 The Village Blacksmith
Henry Wadsworth Longfellow
Under a spreading chestnut-tree
The village smithy stands;
The smith, a mighty man is he,
With large and sinewy hands;
And the muscles of his brawny arms
Are strong as iron bands.
His hair is crisp, and black, and long,
His face is like the tan;
His brow is wet with honest sweat,
He earns whate'er he can,
And looks the whole world in the face,
For he owes not any man.
Week in, week out, from morn till night,
You can hear his bellows blow;
You can hear him swing his heavy sledge,
With measured beat and slow,
Like a sexton ringing the village bell,
When the evening sun is low.
And children coming home from school
Look in at the open door;
They love to see the flaming forge,
And hear the bellows roar,
And catch the burning sparks that fly
Like chaff from a threshing-floor.
He goes on Sunday to the church,
And sits among his boys;
He hears the parson pray and preach,
He hears his daughter's voice,
Singing in the village choir,
And it makes his heart rejoice.
It sounds to him like her mother's voice,
Singing in Paradise!
He needs must think of her once more,
How in the grave she lies;
And with his haul, rough hand he wipes
A tear out of his eyes.
Toiling,--rejoicing,--sorrowing,
Onward through life he goes;
Each morning sees some task begin,
Each evening sees it close
Something attempted, something done,
Has earned a night's repose.
Thanks, thanks to thee, my worthy friend,
For the lesson thou hast taught!
Thus at the flaming forge of life
Our fortunes must be wrought;
Thus on its sounding anvil shaped
Each burning deed and thought.